First mentioned in a letter from Mozart to his father of 12 March 1783:
Mon très cher Père . . . My sister-in-law, Fräulein Lange, gave a concert yesterday at the theatre and I played a concerto. – The theatre was very full; and I was again received by the local public in so gratifying a manner that I have every reason to feel pleased. – I'd already left but they wouldn't stop clapping – so I had to repeat the rondo; – there was a veritable torrent of applause. – This is a good advertisement for my own concert, which I'm giving on Sunday 23 March. – I also played my symphony from the Concert Spirituel. – My sister-in-law sang the aria 'Non so d'onde viene' – Gluck had the box next to the Langes, where my wife was sitting. – He couldn't find words enough to praise both the symphony and the aria and has invited all four of us to lunch next Sunday.[1]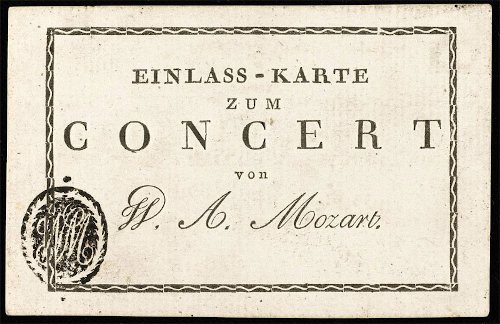 Ticket for a concert by Mozart with his seal, Vienna 1780s (Salzburg, Stiftung Mozarteum)
The symphony performed by Mozart was the 'Paris' K297. The aria 'Non sò d'onde' K294, based on a text from Metastasio's  L'Olimpiade (III/6), was a work Mozart had composed for Aloysia Lange not long after he met her in the fall of 1777 (the autograph is dated 24 February 1778). The concerto performed may have been K175, with the newly-composed finale K382. It also figured in Mozart's academy of 23 March at the Burgtheater, the programme for which he described to his father in a letter of 29 March:::
I believe it's not necessary for me to write much about the success of my academie, you may perhaps already have heard; the theatre couldn't have been more full, and all the boxes were taken – what pleased me most, though, was that his majesty the emperor was also there, and how pleased he was and what loud applause he gave me. . . the pieces were as follows: 1: the new Hafner symphony. 2: Madame Lange the aria with four [solo] instruments, se il padre perdei from my Munich opera: - 3: I played the third of my subscription concertos. 4: Adamberger sang the scene [I wrote] for Baumgarten [Mozart's spelling]. 5: the small concertant-symphony from my last final Musique. – 6: I played the concerto in D, which is popular here, the one with the varied Rondeau that I sent. 7: Mad.elle Teyber sang the scene from my last Milan opera [K135], Parto, m'affretto: 8: I played just myself a little fugue (because the emperor was there) and variations on an aria from an opera called die Philosophen. – I had to play more [so] I varied the aria unser dummer Pöble meint etc: from The Pilgrim of Mecca. 9: Lange sang my new Rondeau. 10: the last movement of the first symphony.[2]
The programme, then, consisted of the following works:
Note: this list contains links to further information about the individual pieces, and to recordings of each work.
1. The 'Haffner' symphony K385 (probably only the first three movements); 
(to hear a recording on period instruments, Ton Koopman and the Amsterdam Baroque Orchestra, click here)
2. The aria 'Se il padre perdei' from Idomeneo K366; 
(to hear a recording on period instruments, Anne Sophie Otter, John Eliot Gardiner and the English Baroque Soloists, click here)
3. The keyboard concerto K415; 
(to hear a recording on period instruments, Malcolm Bilson, John Eliot Gardiner & English Baroque Soloists, click here)
4. The aria 'Misera, dove son!' K369; 
(to hear a recording, Elly Ameling, Edo de Waart and the English Chamber Orchestra, click here)
5. The two concertante movements from the so-called 'Posthorn' serenade K320; 
(to hear a recording of the complete serenade, Charles Mackerras and the Prague Chamber Orchestra, click here)
6. The concerto K175 with the rondeau finale K382; 
(to hear a recording with the original finale, Malcom Bilson, John Eliot Gardiner and the English Baroque Soloists, click here; 
for the substitute finale performed by Mozart on this occasion, click here)
7. The aria 'Parto, m'affretto' from Lucio Silla K135; 
(to hear a recording on period instruments, Amanda Forsythe, Jeannette Sorrell and Apollo's Fire, click here)
8. An unidentified solo fugue, variations probably related to K398, based on the aria 'Salve tu, Domine' from the opera I filosofi immaginarii by Giovanni Paisiello; and variations on the aria 'Unser dummer Pöbel meint' K455, from Gluck's Die Pilgrem von Mekka; 
(to hear a recording of Mozart's published variations K398, Emil Gilels, click here); 
(to hear Mozart's published variations on 'Unser dummer Pöbel meint', András Schiff, click here)
9. The aria 'Mi speranza adorata' K416; 
(to hear a recording of the aria on period instruments, Cyndia Sieden, Frans Brüggen and the Orchestra of the 18th Century, click here)
10. The last movement of the 'Haffner' symphony K385. 
(to hear a recording on period instruments, Ton Koopman and the Amsterdam Baroque Orchestra, click here and start the recording at 15:29)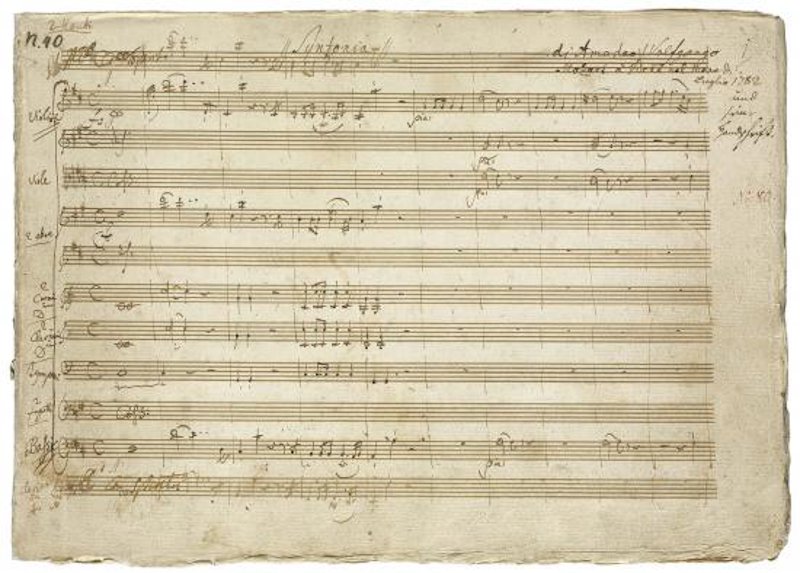 W. A. Mozart, Symphony K385 ('Haffner'), first page of the autograph score (New York, Morgan Library)
The concert was almost certainly as successful as Mozart reported to his father, as a review in Carl Friedrich Cramer's Magazin der Musik, published at Hamburg on 9 May 1783, testifies: 
Vienna, 22 March 1783 . . . Tonight the famous Herr Chevalier Mozart held a musical concert in the National Theatre, at which pieces of his already highly admired composition were performed. The concert was honoured with an exceptionally large concourse, and the two new concertos and other fantasies which Herr M. played on the fortepiano were received with the loudest applause. Our Monarch [Joseph II], who against his habit attended the whole of the concert, as well as the entire audience, accorded him such unanimous applause as has never been heard of here. The receipts of the concert are estimated to amount to 1,600 gulden in all.'[3]  
[1] Gestern hat meine schwägerin Lange ihre academie im theater gehalten, worinn ich auch ein Concert gespielt habe. – das theater war sehr voll; und ich wurde auf eine so schöne art von dem hiesigen Publicum wieder empfangen, daß ich ein wahres vergnügen darüber haben muß. – ich war schon weg. – man hörte aber nicht auf zu klatschen – und ich musste das Rondeau repetiren; – es war ein ordentlicher Plazregen. – das ist eine gute ankündigung für meine academie welche ich sonntags den 23:t März geben werde. – Ich gab auch meine Sinfonie vom Concert Spirituel dazu. – Meine schwägerin sang die aria Non sò d'onde viene – Gluck hatte die loge neben der Langischen, worinn auch meine frau war. – er konnte die sinfonie und die aria nicht genug loben, und lud uns auf künftigen Sonntag alle vier zum speisen ein.
[2] Ich glaube es wird nicht nöthig seyn ihnen viel von dem erfolg meiner academie zu schreiben, sie werden es vieleicht schon gehört haben. genug; das theater hätte ohnmöglich völler seyn können, und alle logen waren besezt. – das liebste aber war mir, daß seine Mayestätt der kayser auch zugegen war, und wie vergnügt er war, und was für lauten beyfall er mir gegeben . . die Stücke waren folgende. I: die Neue Hafner Simphonie. 2t: sang Mad:me Lange die aria auf 4 instrumenten aus meiner Münchner oper. se il padre perdei: – 3:t spielte ich das 3:te von meinen Souscriptions=Concerten. 4:t sang Adamberger die scene für die Baumgarten. 5:t die kleine Concertant=Simphonie von meiner lezten final Musique. – 6:t spielte ich das hier beliebte Concert ex D. wozu ich das variazion Rondeau geschickt habe. 7:t sang Mad:elle täuber die Scene aus meiner lezten mailand opera. Parto, m'affretto: – 8:t spielte ich alleine eine kleine fuge. |: weil der kayser da war :| und varierte eine aria aus einer opera genannt. die Philosophen. – musste nochmal spielen. varierte die aria unser dummer Pöbel meint etc: aus denn Pilgrimme von Mecka. 9:t sang die lange das Neue Rondeau von mir. 10. das lezte Stück von der ersten Simphonie.
[3] Deutsch, Documentary Biography, 215.