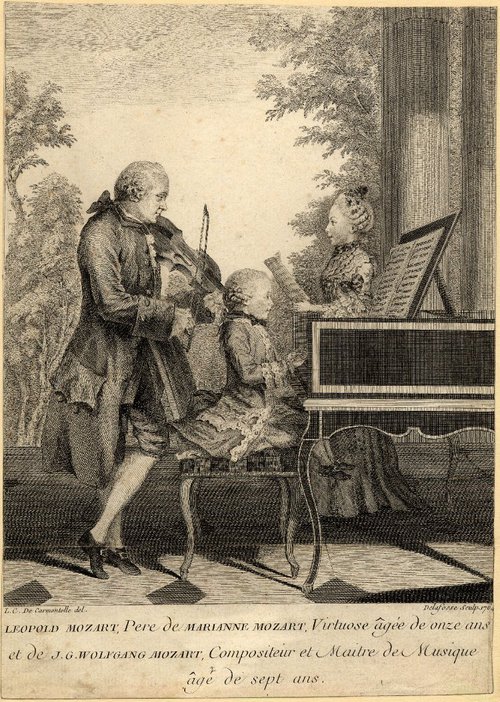 In Paris at the end of 1763, Leopold arranged for a portrait of his children Wolfgang and Nannerl performing with him to be painted by Louis Carrogis, known as Carmontelle. The painting was subsequently engraved, by Christian de Mechel, and sold together with Mozart's earliest sonatas, K6-9. In London, in early 1765, the image was sold with prints of Mozart's more recent sonatas, K10-15. Although the sonatas and engravings could be purchased separately, they were advertised in a way that encouraged buyers to acquire both.
Mercure de France, February 1765:
To be found at Sieur Bordet's, author and music dealer, Rue Saint-Honoré, across from the Palais Royal, between the rue St. Thomas du Louvre and Quinze-Vingts, at the 'Modern Music', two books of harpsichord sonatas composed by J. G. W. Mazart [sic], aged seven.
The first work by this child, who was the admiration of all Paris last winter and has since been no less successful in London, contains the sonatas dedicated to Madame Victoire de France. The second contains the sonatas dedicated to the Comtesse de Tessé. The price of each work is 4 livres 4 sols, but only very few copies remain, the edition being out of print and the plates no longer in France.
Those who would like to join the portrait of the little author to the sonatas will find it at the same address. Price 24 sols. This child-master is seen on it playing the harpsichord, his sister at his side, looking at a sheet of music, and his father behind him, accompanying him on the violin; the resemblance is perfect. This plate is engraved after the picture by M. de Carmontelle.[1]
[1] L'on trouve chez le sieur Bordet, auteur et marchand de musique, rue Saint-Honoré, vis-à-vis le Palais Royal, entre la rue St. Thomas du Louvre et les Quinze-Vingts, à la Musique moderne, deux livres de sonates pour clavecin, de la composition de J. G. W. Mazart [sic] âgé de sept ans. / Le première oeuvre de cet enfant, qui a fait l'admiration de tout Paris l'hiver dernier et qui depuis n'a pas moins réussi à Londres, contient les sonates dédiées à Madame Victoire de France. Le second contient le sonates dédiées à Madame la Comtesse de Tessé. Le prix de chaque oeuvre est de 4 liv. 4 sols, mais il n'en reste que très peu d'exemplaires, l'édition étant epuisée et les planches n'en etant én France. / Ceux qui voudront joinare àces sonates le portrait du petit auteur le trouveront à la même adresse. Prix 24 sols. On y voit ce maître enfant jouant de clavecin, sa soeur à côté du lui regardant un papier de musique, et son père derrière lui l'accompagnant du violon; la ressemblance est parfaite. Cette estampe est gravée d'après le dessin de M. de Carmontelle.