Johann Beneroni and Carl Placardi, Das Kaiserliche Sprach= un Wörterbuch, darinnen die vier Europäischen Hauptsprachen (Köln, 1766), 8: 'Angedenken, n. le souvenir'; 37: 'Denkring, m. bague de souvenir, Denkzeichen, n. marque de souvenir'; 68: 'Gedenken, n. le souvenir'
Neues deutsch=französisch und lateinisches Wörter=Buch as part of Choffin, Nouveau Dictionnaire du Voyageur, François—Allemand—Latin et Allemand—François—Latin (Frankfurt, 1770), 40: 'Andenken, m. le souvenir, la mémoire'; 225: 'Denkzeichen, s.n. un monument, marque de souvenir'
Catalogue Stock in Trade Mr. J. Frankland, Jeweller (n.p. 1776), 7: 'A souvenir mounted in gold.' 
James Douglas, Travelling Anecdotes through various parts of Europe (London, 1786), i.41: '. . . the  youngest of the two girls . . . asked if she was certain, that the little souvenir she gave her was safe in her pocket.'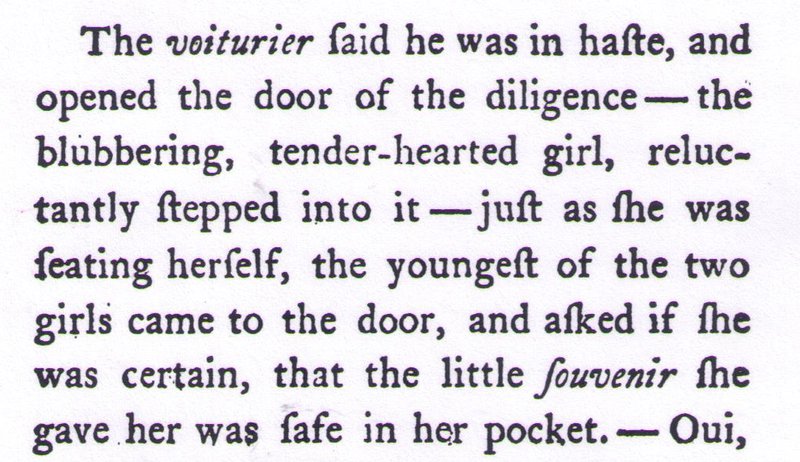 Realzeitung. Für das Jahr 1784 (Vienna, 1784), nr. 30, 27 July 1784 [from a review of Détail exact de l'institut erigé pour le soulangement des pauvres en 1779 sur les terres de M. le Comte de Buquoy en Bohème (Vienna, 1784), citing the author's preface], 477: 'Je cesserois de me répentir d'avoir atteint les premiers jours de mon huitieme lustre, d'avoir acheté de 35 ans de souffrances quelques minutes de bonheur, dont le souvenir est aujourd'hui un supplice.'
Beschreibung jener ländlichen Vergnügungen, mit welchen am 29. August dieses Jahres der höcheste Begurtstag Ihro kurfürstlichen Durchlaucht, der verwittweten Frau Kurfürstinn in Bayern . . . von Sr. kurfürstlichen Durchlaucht zu Trier, Fürstbischofen zu Augsburg . . . begangen worden (Dillingen, 1789), 13: 'Allein, wie angenehm war die Ueberraschung, als Höchstdieselbe ein in diesem Bouquet verstecktes mit Brillanten besetztes Souvenir entdekten!'
William Tytler, An Inquiry, historical and critical, into the evidence against Mary Queen of Scots (London, 1790), ii.406 (citing a letter from Mary to 'son Aumonier'): 'Advisez moy de tout ce que vous penserez pour mon salut par escrit. Je vous envoyeray un dernier petit token. (Souvenir.)'
Baÿreuther Zeitung, 23 November 1790, n.p.: 'Beylage. . . Beschreibung eines beträchtlichen Diebstahls, welcher denen Herren Henry und Compagn. Von Lausanne in der Französischen Schweiz den 9 Nov. 1790 zu Basel in der Schweiz wiederfahren ist, nämlich 4 Repetier-Uhren mit Farbengold guillochée . . . 4 Souvenirs von Perlenmutter, Eilfenbein und mit Gold garniert . . .
Berlinische Korrespondenz historisch-politisch-moralisch- un litterarischen Inhalts. Eine periodische Schrift. Im 1791sten Jahre ([Berlin], 1791), 60-3: 'Schreiben an den Herausgeber der Berlinishcen Korrespondenz. . . Sie werden sehen, daß in der Hauptsache alles so zugeht wie bei Ihnen: Weiber ruiniren ihre Männer durch Staat und Aufwand, borgen [sorgen?] insgeheim, um einem armen Teurfel von Liebhaber Spielgeld zustekken zu können un ihn mit seidenen Strümpfen, Tanzschuhen, wohlriechenden Wassern, Uhrbrelots und Silhouetten, Handschuhen und Souvenirs ausstaffiren und verschönern zu können.
Augspurgische Ordinari Postzeitung, 24 December 1794: 'n.p.: Schreiben aus Berlin, den 13. Dec. . . Se. königl. Majestät haben ebenfalls dem Prinzen von Nassau-Siegen ein mit Allerhöchstdero Portrait geziertes und sehr reich mit Brillanten besetztes Souvenir zustellen lassen.'
Georg Friedrich Palm, Adel der Menscheit in biographischen Schilderungen Edler Menschen (Leipzig, 1798), 85: 'Juliane Francisca von Buchwald . . . 88-9: 'Selbst der Eintritt in das Zimmer, das sie bewohnt, ist interessant. Ihr findet's mit Bildnissen, mit Souvenirs, mit Dingen geschmückt, die ihr werth sind. . .'
The Life of Catharine II. Empress of Russia (third edition: London, 1799), i.182: '. . . the countess [Sophie Auguste Friderique] wrote once more to the empress in 1789, inclosing the lines in her own hand-writing, and delivered it to the care of her nephew, count Augustus von Mellin, president in Riga, who has made himself so famous by his excellent maps of Livonia. Very soon afterwards she was agreeably surprised at receiving, by the hands of count Nesselrode, ambassador from Russia at the court of Berlin, not only an exceedingly fine miniature of the empress, richly set with diamonds, accompanied with a golden souvenir, also set with brilliants, with the cypher E. II. (Ekatarina the second), but also this very gracious letter: . . .'
After about 1800 the word souvenir is commonly used to denote a physical object. The OED cites instances from M. Edgeworth, 'Emilie de Coulanges' in Tales Fashionable Life (1812), v.125 ('Trifles, which she intended to offer as souvenirs to her English friends'); Stephen Trav. Russia (1839), 75 ('He gave me his last painting as a souvenir for his sister'); and Charles Dickens, All Year Round, 22 November 1862, 249/2 ('The walls are decorated with such simple keepsakes and souvenirs of the home-land as I carry about with me').
Given these understandings of the word 'souvenir', the explicit association of Wolfgang's printed and manuscript music with the idea of a 'sounding' object by both Leopold Mozart and the British Museum, effectively establishes a link between materiality and immateriality – the physical objects and the music performed. This in turn suggests that the notion of musical expressivity, the potentially intimate connection between musical object and feelings, may represent a way to understand or read some of Mozart's music, both instrumental and vocal.