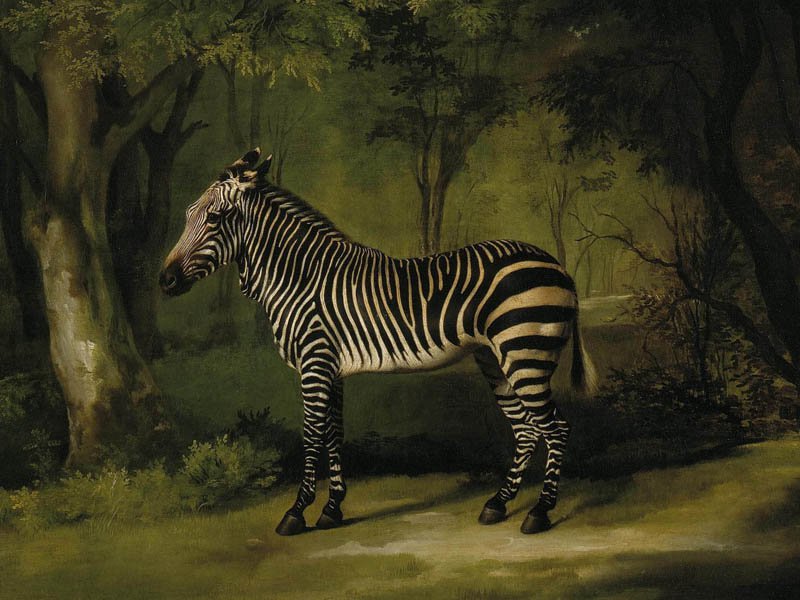 Nannerl Mozart's travel diary, London, 1765:
The zebra painted by Stubbs, and seen by the Mozarts, was 'the first zebra to be seen in England. It was brought from South Africa in 1762 by Sir Thomas Adams, the commanding officer of H.M.S. Terpsichore, as a gift from the governor for young Queen Charlotte. Two live specimens were dispatched from the Cape of Good Hope . . . but only the female survived the voyage. As soon as she reached London, the zebra was installed in the menagerie'.[1] 
An article describing the arrival in London of the zebra was published in The London Magazine, July 1762, 317:
Some Account of the Zebra, or painted African Ass, lately brought over and presented to her Majesty.
This animal, from her majesty's good natured indulgence has been seen by a numbers of people, and is now generally feeding in a paddock near her majesty's house. . .
The Zebra, one of the most beautiful creatures in the world, is about as tall as one of our asses. Its head is small, and its neck finely turned; its body also is small, and as elegant as that of a race horse; and its legs are scarce thicker than those of a stag. It has long ears, and has the sense of hearing in great perfection. It has also a tail that almost sweeps the ground; and this is covered with a short fur all the way to the end, where it has a bush of fine hair, in the manner of a lion's.
The whole animal is striped with three colours, black, brown, and white; these are all very bright, and the hair is glossy; they turn cross wise of the body, but are not parted like the streaks of the tiger but surround the whole body from the top of the back to the middle of the belly.
It is one of the most inoffensive creatures in the world, feeds on grass and other vegetables, and is gregarious. It brays loudly and harshly, like the common ass. When two or three hundred are seen feeding together, which is frequently the case, they must afford a most agreeable sight.
The elephant that the Mozarts saw at Buckingham House was probably an Indian elephant, at least six of which were given to Queen Charlotte during her reign. 

[1] http://collections.britishart.yale.edu/vufind/Record/1669240.