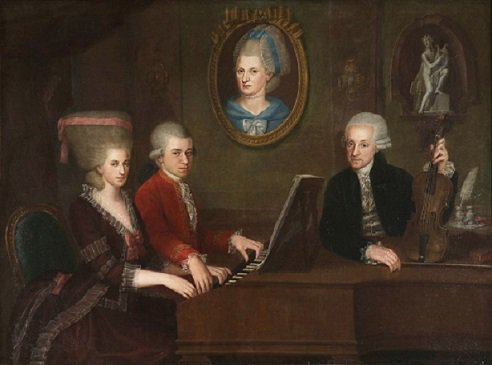 Mozart to his sister Nannerl, Vienna, 16 June 1781:
The portrait and ribbons for my sister will set sail tomorrow. I don't know if the ribbons will be to her liking. — But I can assure her that they're the latest fashion. If she wants any more or some that aren't painted, she should let me know; and if there's anything else that she'd like and that she thinks will be more attractive in Vienna, she should just write. . .
The della Croce family portrait gives a good idea of the sorts of ribbons Mozart may have had in mind. The portrait that he mentions cannot be identified; it is unlikely to be any of the surviving Mozart portraits.
After about 1780, fashion in Vienna began to incorporate local styles from across the Habsburg empire. 'The social structure of the time was reflected in the dresses of the women and young girls. In many portraits of women from the time of Joseph II one sees a complete synthesis of urban fashion and ethnic costume in the clothes of chambermaids and cooks as well as bourgeois women. The idea of dressing in layers came from traditional rural costumes: over a corset, called a "little bouffant," a woman wore a short, tight jacket — a spencer — and a voluminous skirt with an apron.'[1] 
[1] Polly Cone, ed., The Imperial Style: Fashions of the Hapburg Era (New York: Metropolitan Museum of Art, 1980), 37.