Quartet for two violins, viola and violoncello, completed in June 1790. The work was published in Vienna by Artaria, together with the string quartets K575 and K589, shortly after Mozart's death on 5 December 1791. It is Mozart's last work in the genre.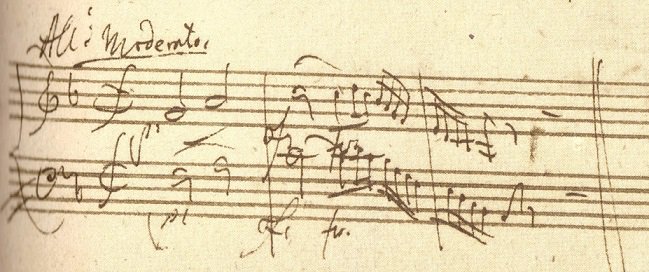 As is sometimes the case among authentic sources for Mozart's works, the musical texts are not identical. In Mozart's autograph of the string quartet K590 he notates piano on the downbeat of bar 1, and forte on the downbeat of bar 2. In the thematic catalogue he kept of his works, however, he notates piano at bar 1 but sforzando at bar 2, with a forte at the middle of the measure. The thematic catalogue version suggests the downbeat of bar 2 may be suddenly loud, and the forte a continuation of that dynamic level. The autograph version is more ambiguous: it may represent a crescendo from bar 1 to bar 2 or a sudden change ─ as in the thematic catalogue ─ in dynamics. One possible explanation for these differences is that they represent two different ways of notating the same 'performance'. Another is that they represent two different ways of performing the same passage. Since Mozart often changed details in his works from performance to performance, both readings are possible.
For an interpretation of K590 as expressing ideas of souvenir and memory, click here.

Category/Role

Chamber music; String quartet;

Author/Creator

Mozart, Wolfgang Amadeus (1756-1791)

Date 1

1790-06

Location

Vienna
Pages referencing Mozart, Wolfgang Amadeus: K590 String Quartet:
Souvenir and expression in Mozart's music